What are the Northern Polar Lights?
It is a natural light display in the upper layers of the Earth's atmosphere that occurs when charged solar particles collide with atmospheric gases.
Where can you see such lights in Russia? The natural phenomenon of the Northern Lights can bee seen here, in Murmansk and Murmansk Oblast. Our region lies behind the Arctic Circle which makes it possible to see this splendid gift of nature from the end of August to the end of April.
Test your luck and chase down the Northern Lights to take a photo of it!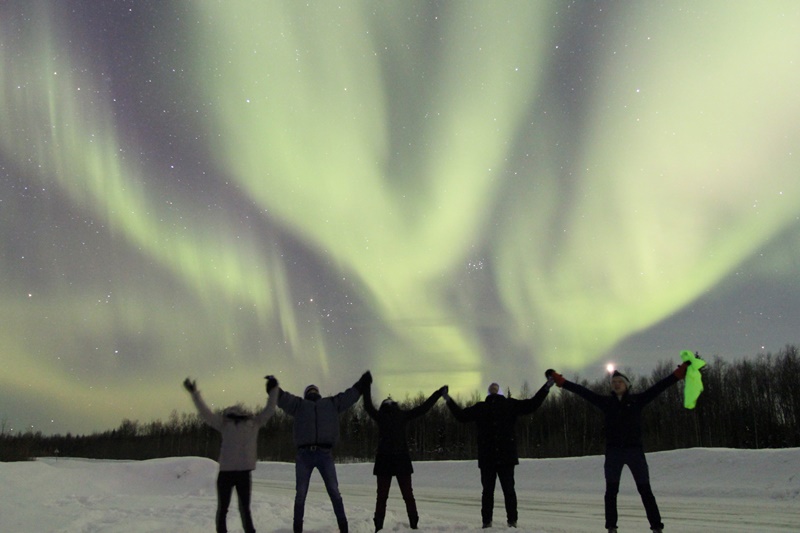 Preparation for the tour:
We thoroughly prepare every tour. On the day another tour starts, we study all relevant forecasts and conditions to choose the optimal starting time and location for the photo hunt. We monitor the lights in special apps that show solar activity and weather forecasts in order to find the best possible spot to observe the phenomenon. The place shouldn't be exposed to any lights from settlements nearby, and it has to be picturesque and easily accessible. Our company will make sure you have something to eat on our way to the place (hot tea and snacks). We'll also let you know when it's better to have some additional gear (clothes, shoes, headwear). Arctic Travel Guides will provide you with warm clothes and blankets if necessary. We can also prepare all relevant photo gear (cameras and charge stations).
Here's how the tour goes:
We know that the Northern Lights is the main reason you want to visit our region, so we're always resourceful when it comes to holding a Northern Lights Hunt tour.
Such tours usually begin in the evening (from 7 to 9 PM) and last about 4 hours.
Upon a prior arrangement, your guide will pick you up at your place of stay (or at a restaurant where they serve excellent Arctic cuisine if you wanted to have dinner before our exciting tour) and you will set out to find the Northern Lights.
The most incredible natural show in the Arctic is waiting for you!
Comfortable transport, hot drinks, amazing stories, professional photos and good mood are included in the price. After the tour is over, we'll give you a comfortable ride back to your hotel.
Our company's main goal is to provide professional services of the highest quality possible. We have various means of transport – usually it's minibuses and Mercedes cars or 4×4 off-road vehicles. All of this makes us more flexible and adaptable when choosing a spot to see the Northern Lights.
We go in several of directions and visit various kinds of places. And, of course, we have our own time-tested spots.
Our expertise, technical facilities, experience, luck and optimism increase your chances to see the Northern Lights phenomenon with your own eyes! The lights of various colors, shapes, and movement patterns can be bright or barely visible, hours-long or fleeting, moving fast or slow. One could describe the phenomenon for hours, but it's different every time and for every person. Let the magical Northern Lights be the symbol of your luck!
Come visit us, book a tour and set out on a journey to get the memorable experience of seeing the Northern Lights!
PRICE:
5000 rubles per person
SEASON:
from the end of August to the end of April.
Photos taken on our trips